Bosphorus Cruise Istanbul
The Bosphorus Dinner Cruise is a fantastic excursion that gives you the opportunity to cruise along the Bosphorus on a luxurious boat while enjoying an amazing selection of food from Turkish and World cuisine, watching Turkish folk dances, and international dance acts.
Private Bosphorus Dinner Cruise Tour In Istanbul
Best thing do to Istanbul
The Bosphorus Dinner Cruise is a fantastic excursion that gives you the opportunity to cruise along the Bosphorus on a luxurious boat while enjoying an amazing selection of food from Turkish and World cuisine, watching Turkish folk dances, and international dance acts.
Enjoy an unforgettable evening of food, beverages, and entertainment aboard in our Istanbul Bosphorus Dinner Cruise. Make the most of your evening in Istanbul with unlimited fun and pleasure while cruising on the Bosphorus Strait and witnessing Istanbul's beautiful silhoutte at night. You will see some of Istanbul's top architectural wonders along the strait; illuminated palaces, mosques, and Bosphorus bridges.
Bosphorus Dinner Cruise
The Best Bosphorus Dinner Cruise Menus With Private Table
Bosphorus Cruise İstanbul
What To See On The Bosphorus Dinner Cruise?
Istanbul is one of the most unique cities of the world, bringing two different continents together. This magnificent city has a lot of to see even from the sea. Hence, when in Istanbul taking a Bosphorus Dinner Cruise should be on your bucket list. A magical trip around the Bosphorus, with the amazing scenery of the breathtaking surroundings. On this exceptional tour, you will have the opportunity to see and photograph priceless relics from three world-dominating Empires: Roman, Byzantine, and Ottoman, enjoy a rich and delicious menu as well as watch some traditional dance performances.
While exploring the splendid Istanbul from the sea on this dinner cruise, we will come across some of the greatest landmarks of the city. It may be a good idea to take a look at them before starting your journey.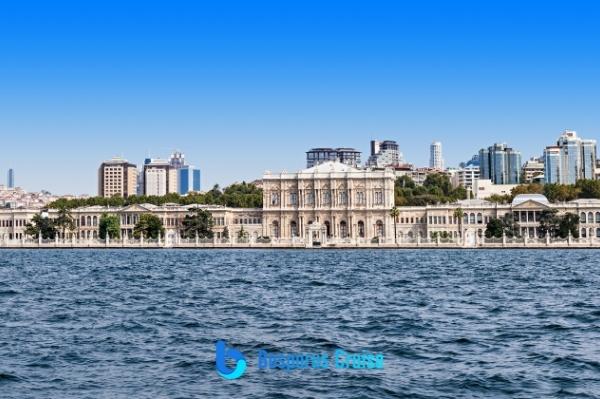 Dolmabahce Palace
The royal Dolmabahce Palace is one of the main attractions that we will see whileon board, enjoying our Bosphorus Dinner Cruise. This elegant mansion of the Bosphorus is one of the most marvelous symbolic of Istanbul representing the Ottoman Empire's 19th century architectural advancements. Outside of the palace is as glourious as its interiors that is decorated with golden ceilings, marble columns and crystal chandeliers. We will admire its luxurious and magnificent silhoutte while cruising along the Bosphorus Strait. Dolmabahce is also known as the last resting place of Mustafa Kemal Ataturk, the charismatic founder of Turkish Republic.
Bosphorus and Fatih Sultan Mehmet Bridges
Istanbul is standing between two continents: Asia and Europe. Bosphorus and Fatih Sultan Mehmet Bridges are the two main bridges linking these two continents. Connecting East to West, these bridges hold a very important place for city transportation. Apart from their geographical significance, they offer an amazing view at night with light shows. On our Bosphorus Dinner Cruise we will take in the best of these admirable nocturnal scenes.
Rumeli Fortress
The historical fortress that is erected by the orders of Fatih Sultan Mehmet is another landmark of The Bosphorus Strait we will come across on our private dinner boat tour. Gracing the European side of the Bosphorus, Rumeli Fortress is now serving as a facility including a lot of cafes and restaurants. With its historical walls and bastions, it is one of the most beautiful city highlights of our Bosphorus Cruise.
Anatolian Fortress
Located on the Anatolian side of the Bosphorus, it is the neighbor of the Rumeli Fortress. Built by the orders of Sultan Bayezid, it not only added a new beauty to the city silhoutte, it was also used for security purposes. With its ancient look and mysterious atmosphere, Anatolian Fortress is another landmark of the mesmerizing Istanbul while we take a dinner tour along the Bosphorus.
Maiden's Tower
The Maiden's Tower, that is also known as Leander's Tower since the medieval Byzantine period, is a tower built on a small islet right across the coast of Uskudar. One of the most famous symbols of the city, Maiden's Tower stand alone in the sea like a beautiful, graceful woman. It is considered one of the most romantic spots of the city and it witnesses many celebrations, engagements, proposals, etc… It is the subject of a many mysterious and romantic folk stories. During our Bosphorus Dinner Cruise, we will have the chance to take a look at this amazing structure while having the best time with delicious food and unlimited entertainment.
Beylerbeyi Palace
The glamorous Beylerbeyi Palace is located on the Asian part of the Bosphorus in the Beylerbeyi neighborhood of Istanbul. Located really close to the Bosphorus Bridge, it is one of the most chic buildings of Istanbul, the pearl of the Bosphorus Strait. Commissioned by the Sultan Abdulaziz of Ottoman Empire, it was originally built as a summer vacation palace for the imperial family. The luxurious and elegant interiors greatly complements the outer surroundings. It is a feast fort he eye, while cruising along the Bosphorus.
Wandering around the streets of Istanbul is priceless. There are a lot of discover, many to be amazed by. However, it is another level of pleasure seeing the most well-known city highlight while cruising along the one and only Bosphorus, the only strait that connects two continents. On a special Bosphorus Dinner Cruise, you can witness the beauty of Istanbul's greatest hits at night. Plus, you will be accompanied by a comprehensive menu delicious food and unlimited alcoholic and non-alcoholic beverages as well as professional dance shows from Belly Dancers to Latin, from Whirling Dervishes to Halay. It is a unique experience that should not be missed while visiting Istanbul.
BOSPHORUS CRUISE
Frequently Asked Questions
1- What does Bosphorus Dinner Cruise offer?
Bosphorus Dinner is a comprehensive entertainment package. It includes a Bosphorus Night Tour that will take you a journey aşong the Bosphorus Strait with delicious food and beverages. 10 different local and international dance shows are also accompanying your tour.
2- What to eat and drink on a Bosphorus Dinner Cruise?
We have 3 different menu options that you can pick according to your taste: VIP Menu, Standard Menu and Vegetarian Menu. On VIP Menu and Standard you will have the chance to taste the most delicious Turkish dishes as well as delices from the world cuisine. Chicken Shish, Haydari, fish and many more food alternatives are offered with famous Turkish raki and other alcoholic and non-alcoholic drinks. You can also enjoy the amazing Vegetarian Menu that includes Spring Rolls, Vegetable Pizzas, and many more.
3- Is pick up from hotel is included in the price of Bosphorus Dinner Cruise?
Pick up transfer from the hotel is included in the tour price. You will be picked up from your hotel about 90 minutes before the commencement of the tour.
4- Which dance shows are performed on the Turkish Bosphorus Dinner Cruise?
There are many dance performances presented on the tour such as Whirling Dervishes, Halay, Zeybek, Latin, Belly Dance, Roman, Kafkas, Zenne and Horon.
5- What is the duration of the Bosphorus Dinner Cruise?
6- Do you recommend a Turkish Night in a indoor venue or a Turkish Bosphorus Dinner Cruise?
The answer may change from person to person; however you can watch a dance show on a venur any time you want. Giving that Istanbul is the only city in the world that connects two continents and you will be cruising along these continents while enjoying a Turkish Night Show and amazing food selection, this is a once in a lifetime experience that should not missed!
7- How to share our Istanbul Bosphorus Dinner Cruise experience?
First of all, we highly recommend you to enjoy the moment on this unique experience. And if you would like to share your adventure with your family and friends on social media, make sure to tag us @bosporuscruise to spread the love.
8- How the menu is planned and prepared if I wabt to arrange a private Bosphorus Cruise tour?
For private Bosphorus Cruise tours, the decision maker is you! We can shape the whole experience according to your demands. You can inform us about the menu you wish to have and we will prepare it for you to make your experience even more special.
Bosphorus Cruise Blog
Things You Need to Know about Bosphorus Tours
When you come to Istanbul and especially when you visit the districts by the Bosphorus, you
will see that there are regular Bosphorus tours in the city. With these Bosphorus Cruise
tours, you can see the beauties of the city from the sea and witness the magnificence of
Istanbul. You can go to any of the Bosphorus tours with different durations and different
types, and you can visit the ancient city of Istanbul in a more special way.